Integrated Hose & Fittings Provide Hose Tails For Multiple Purposes
GlobalSpiral™ crimp fittings
The no-skive ferrule eliminates the need for skiving equipment, as well as odors and dust created while removing the protective outer cover from the hose. Ferrules that require skiving are subject to blow-offs when skived improperly. Blow-offs and weeping at the hose/coupling interface also can result from failure to fully insert the stem during assembly. With the two-piece design of the GS coupling, it is possible to pull the ferrule down and check for full stem insertion.
Benefits
Eliminates skiving equipment, odor, contamination and inconvenience
Easy to manage inventory with fewer SKU's
Extended coupling life
Increased application coverage
Improved coupling retention and blow-off prevention
Superior performance at extreme temperatures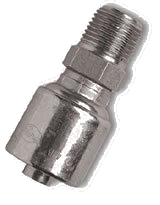 Megacrimp Fittings Feature Exclusive Tuffcoat™ Plating
This innovative plating gives our MegaCrimp couplings four times more corrosion resistance than before. That's 400 hours of red rust corrosion protection when subjected to rigorous SAE-J516 and ASTMP-117 salt-spray conditions. This 500+ percent improvement over the 72-hour SAE standard proves Gates not only raised the bar on corrosion resistance – we've set the standard.
Key Features
Robust "bite-the-wire", full-length crimp
Easy-to-manage inventory reduces SKUs
TuffCoat plating for 500% better corrosion resistance
Fully qualified EN-performance coupling